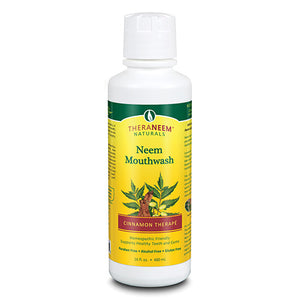 TheraNeem Neem Mouthwash - Cinnamon
Organix South-TheraNeem
Regular price $15.89 $19.99 Sale
Neem Mouthwash Herbal Cinnamon Therape: 16 oz.

Neem Mouthwash supports healthy teeth and gums, with Supercritical Extracts of Neem Leaf & Other Herbs to soothe, protect and leave even the most sensitive mouth feeling healthy, clean, and refreshed. Neem mouthwash is recommended for general oral care, cavities, peridontal disease, gingivitis, gum problems, bleeding gums, bad breath, and toothaches.
Alcohol Free
Sulfate Free
Paraben Free
Gluten Free
No Artificial Colors or Flavors
Suitable for diabetics & children.

Neem is revered by Ayurvedic practitioners to maintain healthy teeth and gums. Commonly known in India as the "Village Pharmacy," Neem twigs are frequently used to clean teeth. Modern science has since validated the traditional uses of Neem Leaf for oral care. TheraNeem Organix Neem Mouthwash is the second step of a 3-Step Oral Care System. For best results, it should be used in conjunction with TheraNeem Organix Neem Toothpaste and periodic internal supplementation with a neem leaf capsule or supercritical extract (liquid or capsule), in addition to daily flossing and regular visits with your oral care professional
16 oz "Deionized Aqua/Water/Eau, Aloe Barbadensis Gel*, Sorbitol, Glycerin (Vegetarian), Poloxamer 407,Ascorbic Acid, Xylitol, Potassium Sorbate, Supercritical Extracts of: Cinnamomum Zeylanicum (Cinnamon) Bark*, Cardamomum (Cardamom) Seed*, Illicum Verum (Star Anise) Fruit*, Eugenia Caryophyllus (Clove) Bud*, Vitis Vinifera (Grape) Seed*, Azadirachta Indica (Neem) Leaf, Azadirachta Indica (Neem) Bark*. *Certified Organic" "directions=Rinse Or Gargle Twice Daily, Or As Often As Desired. For Maximum Benefit, Hold In Your Mouth For 1-2 Minutes. Do Not Swallow. To Maintain Product Integrity, Pour Into The Cap For Each Use."
---