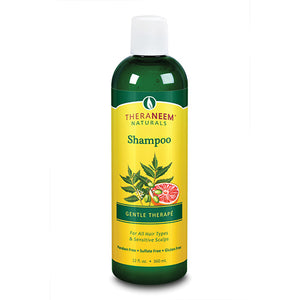 TheraNeem Gentle Therape Shampoo
Organix South-TheraNeem
Regular price $15.29 $13.49 Sale
Gentle Therape Neem Shampoo
12 oz
Recommended For: dry scalp, sensative scalps, dry or damaged hair, dandruff, lice
Organic neem helps to protect and sooth dry, irritated, or sensitive scalps. Antioxidants and Fatty acids in Neem help build shiny, healthy, flake free hair. Use TheraNeem Gentle Therape Shampoo to enhance and support the healthy and vitality of the hair and scalp. The original TheraNeem Shampoo with organic Neem oil & Neem leaf extract, chamomile, arnica, pine, basil and cherry bark, this formula will clean gently and penetrate the scalp without harsh chemicals or soaps. Neem will leave your hair the feeling and looking its best.
For All Hair Types & Sensitive Scalps
Paraben Free
Sulfate Free
Gluten Free
Safe for color-treated hair
pH balanced and conditioning
Neem is respected by Ayurvedic practitioners for its ability to support healthy skin and scalps. Used for centuries, Neem protects, nourishes and moisturizes even the most sensitive skin and scalps.
Ingredients:  Aqueous Extract of Azadirachta Indica (Neem) Leaf*, Chamomilla Recutita (Chamomile) Flowers, Arnica Cordifolia, Pinus Sylvestris (Pine) Bark, Ocimum Basillicum (Basil) and Prunus serotina (Cherry) Bark, Olefin Sulfonate, Polysorbate 20, Alkyl Polyglucoside, Lauramide DEA, Peg-7 Glyceryl Cocoate, Azadirachta Indica (Neem) Oil*, Kosher Glycerin, Sodium Hydroxymethylglycinate, Sodium Chloride (Sea Salt), Panthenol, Fragrance (from natural ingredients), Citric Acid.* Certified Organic
Directions: This shampoo is thinner than most so it will penetrate completely to the scalp. Apply to wet hair and massage well. Allow to remain in hair for 3 to 5 minutes, then rinse completely. For best results, use with TheraNeem Gentle Therape Conditioner.
---