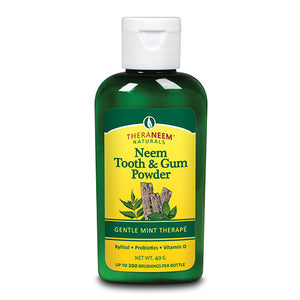 Neem Tooth and Gum Powder-Mint
Organix South-TheraNeem
Regular price $9.29 $17.99 Sale
Neem Tooth & Gum Powder, up to 200 brushings per bottle
1.6 oz (40 grams)
Gentle Mint Therape with Xylitol, Probiotics, and Vitamin D. Neem toothpowder and neem toothpastes are recommended for:
general oral care, cavities, peridontal disease, gingivitis, gum problems, bleeding gums, bad breath, and toothache. Neem Tooth & Gum Powder contains concentrated organic Neem Leaf & Neem Bark, super-potent Supercritical CO2 Extracts for maximum therapeutic actions, and Xylitol, Probiotics and Vitamin D for complete gum health support.
Neem has been used for thousands of years to support healthy teeth & gums. Modern science has validated this traditional use and ongoing research confirms its efficacy for oral health care.
Sulfate Free
Gluten Free
Flouride Free
Paraben Free
No Artificial Colors or Flavors
Cruelty-Free
Vegan
Part of a complete 3-step oral care program:
1. Brush with Neem Tooth & Gum Powders or Toothpastes
2. Rinse with Neem Mouthwash
3. Internal support with Supercritical Extract of Neem Leaf
Winner of Best Natural Personal Care Product at ExpoWest 2012!
Ingredients: Xylitol, Sodium Bicarbonate, Supercritical Extracts of Peppermint Leaf, Spearmint Leaf, Neem Leaf, Neem Bark, Anise Fruit and Clove Bud, Sodium Methyl Cocoyl Taurate, Maltodextrin, Calcium Carbonate, Sea Salt, Silica, Natural Flavor, Stevia Rebaudiana Leaf Extract, Streptococcus Salivarius K12 (probiotics), Cholecalciferol (Vitamin D-3) Powder.
Directions: Tap powder onto moist toothbrush. Brush teeth and gums after every meal. For best results, use with TheraNeem Mouthwash. 
---