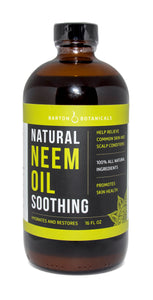 Barton Botanicals Pure Neem Oil, 16oz
Barton Botanicals
Regular price $24.90 $31.49 Sale
Barton Botanicals Pure Neem Oil
16 oz. (Glass Bottle)
Pure Neem seed Oil, cold-pressed from wild-harvested seeds of neem trees. Neem oil contains high levels of vitamin E, antioxidants, and Omega 6 & 9 essential fatty acids that nourish and repair hair, skin and nails. Neem oil can be used to effectively treat dry skin, eczema, psoriasis, scabies, itchy skin, insect bites, rashes, ringworm, topical skin issues, dandruff and sensitive scalps.
Used for centuries in India, and nicknamed "the wonder tree" Neem Oil is renowned for protection and prevention and for its ability to promote healthy skin, hair, scalp and encourage hair growth. Effective for use in daily skin and scalp care regiments. Apply directly to the skin, mix with a carrier oil, or add to your favorite lotion or shampoo.
100% pure neem seed oil, free of solvents or additives

High potency: tested to ensure at least 2400ppm Azadirachtin content (nearly 2 times the potency of leading competitors)

Obtained by cold pressing

Rich in nourishing essential fatty acids and antioxidants

Gentle and soothing for itchy, irritated and sensitive skin and scalps

Neem oil is a gentle, yet effective alternative to tea tree oil with similar therapeutic benefits
Pure Neem Oil has a nutty-garlic odor and this unique aroma is caused by the retention of volatile oils present in organic neem oil, diluting neem oil in a carrier oil like coconut oil in a 10-20 percent concentration will help mask its natural aroma while maintaining its effectiveness. Due to organic neem oil's high concentration of essential fatty acids, it begins to solidify at cool room temperature (around 72 degrees). To restore to a liquid state, simply warm the bottle in your pocket or a mug of warm water (do not microwave or boil, excessive heat will degrade the organic neem oil). The transition from solid to liquid, or vice versa, has no effect on the therapeutic properties of neem oil.
Ingredients: 100% Pure neem oil (Azadirachta indica). Free of solvents or additives

Directions: Apply Pure Organic Neem Oil Directly To The Skin, Or Add A Drop Or Two To Your Favorite Shampoo Or Body Care Product For Soothing Relie
Use as directed. For External Use only. Keep out of the reach of children. Discontinue use if irritation occurs. These statements have not been evaluated by the FDA. This product is not intended to diagnose, treat, cure, or prevent any disease.
---