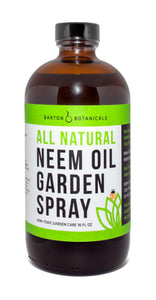 Barton Botanicals All-Natural Garden Neem Oil
Barton Botanicals
Regular price $24.90 $31.49 Sale
Neem Oil for Plants
16 oz.
Neem oil for plants is respected by farmers worldwide and has been used for centuries.
Nourish and protect your garden without the use of harsh chemicals. Garden Neem Oil is a biodegradable, all-natural plant spray and soil drench effective against more than 200 common garden pests.
Safe o use on all types of vegetation. Mix Garden Neem Oil with water and spray on garden plants, flowers, trees, or shrubs to deter unwanted pests. Neem Garden Oil spray not only nourishes and protects plants and soils, it is also safe, non-toxic and non-harmful for bodies, the environment, and beneficial insects and bees.
Containing only 100 percent pure neem oil, cold-pressed from the seeds of the Indian Neem Tree, It is environmentally compatible, non-toxic to mammals and birds, and does not affect beneficial insects and bees. Neem oil for plants makes a biodegradable, safe and effective plant spray and soil drench. This bottle can make up to 24 gallons of solution.
Promotes Healthy Soils and Plants
All-Natural Garden Care Solution, 100% pure natural Neem
Non-toxic and Biodegradable
Does not affect beneficial insects and bees
Contains a minimum azadirachtin content of 2400 ppm
Usage rate is one teaspoon neem oil per quart or four teaspoons neem oil per gallon of water. Add 1 teaspoon of an ecologically friendly dish detergent to a small portion of the water as an emulsifier. Add the neem oil and mix well. Add remaining water, stir well and use immediately. For outdoor gardens, we recommend spraying at dusk to allow the neem oils to soak into the plant and soil. Do not spray in full sun. Use as a foliar spray and soil drench, spraying both the top and underside of the foliage. Repeat spraying once a week for five weeks. Your garden will be safe for immediate use after spraying. Wash fruits and vegetables prior to consumption. Neem oil for plants may also be used on pets and livestock.
Ingredients: 100% pure Neem Seed Oil (Azadirachta indica). Free of solvents or additives. Barton Botanical's Neem Oil is highly potent and contains a minimum 2400 ppm Azadirachtin
Directions: Usage rate is one teaspoon Neem Oil per quart or four teaspoons Neem Oil per gallon of water. Add 1 teaspoon of an ecologically friendly dish detergent to a small portion of the water as an emulsifier. Add the Neem Oil and mix well. Add remaining water, mix well, use within 24 hours
---